OBERNKIRCHEN SCULPTOR SYMPOSIUM
You Are Up Close: Art to Experience and to Touch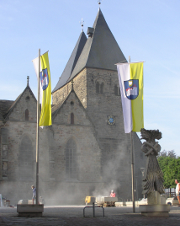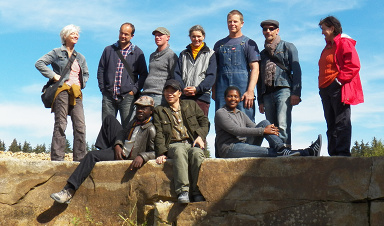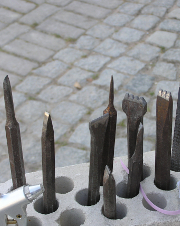 Every 3 years it happens again: the wonderful Church Square in Obernkirchen will transform into an artist's workshop, - lasting for two summer weeks.
International artists will be arriving with bags full of ideas which they will implement to the world famous Obernkirchen Sandstone.
The International Obernkirchen Sculptor Symposium (IOBS) will present working artists, giving you the opportunity to experience and to touch art. Touching is not only possible, - it is wanted and expected.
The invited artists will be presenting abstract art as well as figurative art: Heavy headed or spontaneous - craftsmen or technique freaks - academically trained or autodidact - speakers or close-lipped - quick or slow - Europeans, Asians and Africans.
The International Obernkirchen Sculptor Symposium may have been an insider tip at its start in1988. Today the symposium is well established in the international sculptor scene and highly appreciated among art lovers. In 2009 the 8th Symposium was visited by more than 30.000 guests, enjoying art and artists.
What are the reasons for the growing acceptation of this reunion on the Church Square?
The world famous sandstone is broken in the quarry of the mountain, Bückeberg, and the unique sandstone is provided by the IOBS. Working with this brilliant, fine grained stone fulfills the long-cherished wish of many sculptors.
Another reason is the outstanding atmosphere on the Church Square that gives the symposium it's very special and exciting flair. The changes of light on the wide, sunny square may initiate inspiration unlike any other work shop. With the St. Mary Church, grey of age, building the stage background artists will be working hard, seeking inspiration and ideas, learning from and discussing with another.
Visitors have the choice: You may interact or just peacefully enjoy the atmosphere in the evening sun in front of the little Art Cafe, known as the "Trafohaus". You may enjoy a glass of good red wine and maybe the smile of a dusty African or Asian sculptor sitting next to you. Boheme in Obernkirchen - peacefully!
Last but not least: The people of Obernkirchen are accommodating their guests with openhearted amicability and over the years their interest has been supplemented with a significant knowledge of art. Families with children, school classes, professionals or camera clicking aesthetes – visitors showing no fear of contact.
Right from the beginning the basic idea of shaping the Symposium: We want to bring artists out of their narrow workshop into public. We want to bring artists from all over the world – from Auetal to Zimbabwe, artists with different skills, talents, techniques, with or without academic education together in Obernkirchen. Based upon this art can and will develop and grow.